I'm so excited to offer NFT versions of my original artworks. NFTs are a new way to purchase art so I've provided an explanation below about what it is and how you can get involved!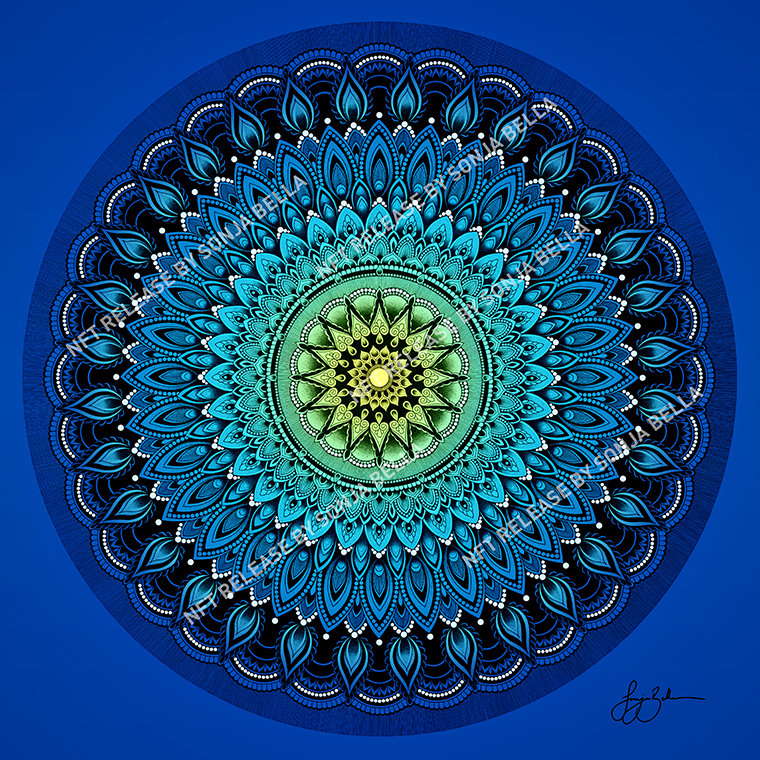 NFT Listing 01
Serenity
The first of the Revelation Series, this artwork reveals the interpretation of my experience in this beautiful, complex world. Originally hand-drawn at 600mm wide using black ink pens, the drawing alone took over 200 hours to complete. Sonja's ongoing study of Sacred Geometry is applied in this drawing, transmitting higher frequencies of energy and awareness into the Universe. This artwork holds a powerful energy and brings a calm, soothing vibe to the world. The last few years have been tough for so many people, and I hope this artwork helps everyone see that the world is still a beautiful, inspiring place to live.
File type: High Resolution JPG
Dimensions: 4368 x 4368 pixels
Artist: Sonja Bella
Reserve: TBA
View my profile on Foundation »
Please note: Final image is without watermarks.
What are NFTs?
NFT stands for Non-Fungible Tokens. While every Bitcoin is identical, non-fungible tokens are unique. In relation to art, you can think of these tokens like a certificate of authenticity that displays provenance and proof of ownership.
What is blockchain technology?
Blockchain is not a cryptocurrency – it is a technology. Blockchain is a record of transactions and adds it is as a "block" of data. Each block is connected to the ones before and after, so they form a chain of data as the asset moves from owner to owner. Read more about Blockchain technology here »
Why do artists sell NFTs?
NFTs benefit artists directly. They offer a chance to sell art without relying on galleries and online marketplaces who take hefty commissions. NFTs also offer artists the opportunity to sell digital versions of their traditional art, maximizing their earning potential from a single artwork.
Why buy NFT art?
NFTS are unique and can only be owned by one person at a time. The NFT market is speculative, so investors purchase NFTs with the hope that they will be worth more at a later date. Buying original NFT art directly from artists is a great way to obtain an asset with real value.
In my humble opinion, there's a lot of "noise" in the current NFT marketplace … I'm talking about all that crappy clip art and worthless digital junk selling for big $$$$. With so much speculation and uncertainty in what is valuable, I believe in the future of NFT art. I would jump at the chance to own a Van Gogh NFT (if only I could afford it!) and this is how I view the future of NFTs in the art world. As more talented artists transition to this new marketplace, we'll start to see NFT art that has a tangible investment value and can be bought and sold for profit.
How to buy NFT art?
I have chosen to list my NFTs on the Foundation platform, which is a marketplace for connecting artists to collectors. There are many other platforms including OpenSea and SuperRare.
To become a collector on Foundation, you can create a profile to start collecting NFTs. All you'll need is a wallet and Etherium. When you collect a work, the NFT gets transferred to your wallet and appears on your collector profile. You can then display it in your virtual gallery or sell it later on the secondary market.
To start as a collector | Set up your wallet and purchase Etherium on the Foundation platform »